Short Courses
video on-demand
Course presenterShort Course Manuals Short Course Flyer
ALTA offers practically-oriented technical short courses presented by Alan Taylor as a valuable introduction for newcomers and a useful refresher for old hands. These well-respected courses have been presented internationally for many years and are kept current with annual updates.
We are now presenting our short courses online to enable you to continue your professional development while working from your home or office. Join live interactive sessions or access the on-demand recordings in your own time.
Face-to-face and/or online at the annual ALTA conference
Online video on-demand, including email interaction with course presenter
Dedicated interactive online sessions for your team
Course manuals available for purchase with immediate download
Available in video on-demand format including a comprehensive course manual and email access to course presenter
Copper SX/EW Basic Principles and Detailed Plant Design
Course outline
Treatment of Nickel-Cobalt Laterites
Course outline
Heap Leaching and its Application to Copper, Gold, Uranium and Nickel Ores
Course outline
A-Z of Copper Ore Leaching
Course outline
SX and its Application to Copper, Uranium & Nickel-Cobalt
Course outline
Uranium Ore Processing
Course outline
Course outlinesCourse presenterShort Course Manuals
To register for video on-demand courses, please complete the form below and submit payment. 
Fees are for one participant only (single user license); group discounts available
Video on-demand, including email interaction with course presenter
Electronic copy of course manual prior to the course, valued at A$300
Certificate of participation provided on request
Register for two more more sessions and received a 10% discount
To qualify for young professional rate, must be 32 years or younger
Student rate is for full-time students - a letter from department head may be requested
All fees for a single-user license and are listed in Australian dollars inclusive of 10% GST.

Standard
$595
Self-funded, young professional, academic *conditions apply
$450
Student *conditions apply
$150
"Thank you very much for that great presentation. I think that it went really well – I would never have thought that it was your first online short course! Everything went smoothly, video was high quality and audio was very good. The material itself was very informative and I appreciated the coverage of industry application and good practical examples from Alan's experience. I look forward to the next session." Nicole Jansen van Rensburg, Principal Advisor – Hydrometallurgy Studies - Process Optimization, Growth & Innovation, Rio Tinto (Australia)

Latest News & Articles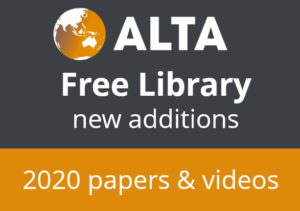 ALTA 2020 Online additions We are pleased to announce exciting new additions to the ALTA Free Library.  All opening and…Read more