ALTA 2022
20-27 May, Perth and Online
ALTA 2022 is a world-class annual metallurgical conference, now in its 26th year, and a leading platform for innovation.  ALTA conferences are well-known for providing exceptional opportunities to share ideas and develop new connections.
The carefully crafted program is practically oriented rather than academic, and the themes running through the conferences reflect key current and developing technology trends. We are pleased to partner with CSIRO Mineral Resources for the In-Situ Recovery Conference (ISR) and Curtin Gold Technology Group for the Gold-PM Conference. The Uranium-Rare Earths and In-Situ Recovery conferences are organized in cooperation with the International Atomic Energy Agency (IAEA).
We are heading back to Perth!
Following our all virtual event in 2020, we are excited to return to a face-to-face gathering for ALTA 2022 to be held 22-26 May (Note: Sunday-Thursday) at the Pan Pacific Perth. We have adopted a hybrid format with in-person attendance for both Australian and international delegates.  Virtual participation will be available for internationals who are unable to travel.
The short courses will be presented on line only on 20, 21 and 27 May, and recordings will also be accessible to attendees post conference.
Alan Taylor, Conference Chair
alantaylor@altamet.com.au
FIVE international conferences
Nickel-Cobalt-Copper (22-24 May) including Pressure Acid Leaching forum & panel
Uranium-Rare Earths (25 May) including Rare Earth Process Development forum & panel
Gold-PM (25 May) including Refractory & Complex Gold Ores forum & panel
In-Situ Recovery (ISR) (26 May) including Enhancing ISR Permeability forum & panel
Lithium & Battery Technology (26 May) including Developments in Battery Technology forum & panel
THREE short courses
Treatment of Nickel-Cobalt Laterites (20 May) Course outline
Copper SX/EW Basic Principles and Detailed Plant Design (21 May) Course outline
Heap Leaching & its Application to Copper, Gold, Uranium & Nickel Ores (27 May) Course outline
| Key Features | Benefits of Participation |
| --- | --- |
| Leading platform for metallurgical innovation and strong content of developing technology | Increased exposure to the latest worldwide developments in projects engineering technology, equipment, materials and reagents |
| Highly-focused programs and quality technical papers with practical emphasis | Gain valuable knowledge from industry experts |
| Knowledgeable and experienced international presenters | Discover, share and discuss metallurgical innovation in an environment that encourages open exchange of ideas and experiences |
| Highly topical forums and panel discussions with opportunity for discussion and debate | Showcase products and services to key industry decision makers |
| Practically-oriented technical short courses | |
| Truly international event with typically 40% international attendance from 30 countries | Opportunity to receive feedback from senior technical specialists from all aspect of industry and around the globe |
| Sponsorship and promotional opportunities | Network with a wide variety of key industry people |
| International trade exhibition | |

Latest News & Articles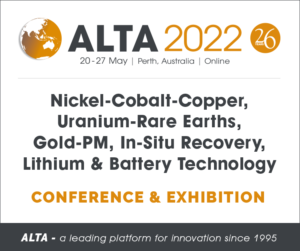 ALTA 2022 is pleased to present an outstanding line up of presenters and selection of abstracts. View the Abstracts on…Read more