Abstract Submission
now receiving abstracts
Program TopicsAbstract TemplateSample Abstract
ALTA 2021 is a world-class annual metallurgical conference, now in its 26th year, and a leading platform for innovation.  The emphasis of the program is practical rather than academic, and the themes running through the conference are the various aspects of technology and project development. ALTA conferences are well-known for providing exceptional opportunities for the industry to share ideas, innovations, technologies and projects, and develop new industry connections.
Abstracts must be prepared using the abstract template.
Abstracts must be submitted online via the form below.  Email submissions not accepted.
Please check spelling and grammar carefully. Accepted abstracts will be published as submitted.
All presenters must comply with deadlines for paper submission, registration and payment.
The submission deadline is 15 May, however we recommend earlier submission as we anticipate high demand.

Latest News & Articles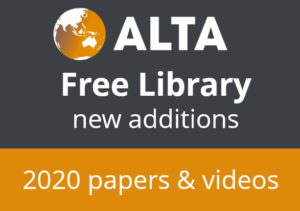 ALTA 2020 Online additions We are pleased to announce exciting new additions to the ALTA Free Library.  All opening and…Read more