Packages & BookingVisit the online CommunityDownload Program
ALTA 2020 Online is an outstanding platform to promote your latest developments in equipment, supplies, materials, technology and services. Showcase your business to an international audience through enhanced visibility and exposure.  Each sponsorship includes a booth in the virtual exhibition available to delegates and visitors, and will remain live for 6 months; before, during and post event.
September 1
Promotion: Promote your participation on social media with #ALTA2020 or #ALTA2020online
Your sponsorship includes a booth in the virtual exhibition which is open to logged in free visitors and we encourage you to distribute invitations to your network.
September 15
File Requirements: To make the most of your virtual booth, please ensure you submit materials and links by the deadline. Refer attached File Requirements.
September 15
Diamond Sponsors: Advise details of the representative who will give the sponsor address, including name, position, image, email address and contact telephone.
September 20
Registration: All sponsors must register to attend the conference; refer to your confirmation email for specific instructions.

Latest News & Articles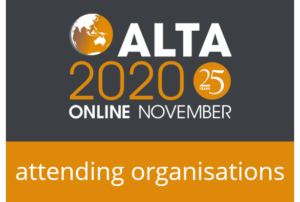 ALTA 2020 Online is LIVE The list of attendees includes 600 participants from 47 countries representing 345 organisations. We are excited…Read more