presenter
registration process
Registration FeesDownload Instructions
Please review the following summary of the new registration process developed to integrate with ALTA 2020 Online then click 'continue to registration' below.  Please note, each registration includes a single-user license which requires two-factor authentication to access the secure site.
Step 1: configure your order
To access the discount presenter fees, enter your coupon code on the right-hand side of the registration page and click 'apply'.  If you have not received your coupon code, contact Allison Taylor.  The following registration options allow you to personalise your participation to suit your specific needs.  Make your selection then click 'add to order'.
All Conferences Pass: access to all five conferences, with optional short courses
Selected Preferences Pass: select preferred conference/s and optional short courses
Step 2: review your order
You will be prompted with two options:
'review order and check out' which allows you to modify selections before payment
'add another ticket' – go back and add another ticket to your order (note, one ticket required per person)
Step 3: check out
This form is for billing purposes only. You will have the opportunity to identify the name of the attendee/s when you activate their registration.
enter your billing details and billing address
complete payment by credit card or select 'invoice' for payment by bank transfer
a tax invoice will be sent to the email address listed in billing details
Step 4: activate your registration
On receipt of payment, you be asked to assign attendees to the submissions you have purchased.
if paying immediately, please click 'activate your registration' to enter attendee details
if paying by invoice, you will be sent a tax invoice by email.  Once paid you will be sent an "Activate your registration" link by email
note: you must activate the registration for all admissions purchased to gain access to the event
once activated, each attendee will receive a registration confirmation email
Contact
If you require changes to attendee details or participation selections, click the 'Contact Us' button at the bottom of your confirmation email for assistance.  Please contact Allison Taylor if you require assistance with the registration process.
Remember – you will need a coupon code to access presenter fees!

Latest News & Articles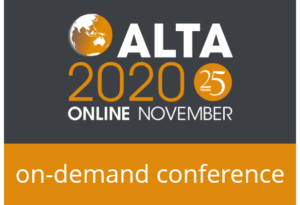 After three action-packed weeks the live conference has ended but the on-demand event continues until 12 March. We were excited…Read more