AbstractsPapersPresenter BiosOral Presentations
ALTA 2020 is a world-class annual metallurgical conference, celebrating its 25th year, and a leading platform for innovation.  The emphasis of the program is practical rather than academic, and the themes running through the conference are the various aspects of technology and project development. ALTA conferences are well-known for providing exceptional opportunities for the industry to share ideas, innovations, technologies and projects, and develop new contacts and broader networks.
50% off registration fees for presenting event or 30% off the full week conference (one per paper). Sole Consultant presenters receive 75% off registration fees. Presenter Fee Schedule
Promotion via LinkedIn and ALTA website.
Network with other presenters and chairpersons at ALTA's unique Presenter Breakfast Briefing.
Opportunity to update papers after the conference prior to publication of final proceedings after the conference.
Panel discussions have been a key feature of ALTA conferences for many years, providing provide a unique opportunity to learn from experts in their field. The QA format encourages open discussion and debate with delegates, and the chance to workshop key issues for the benefit of the wider industry. By presenting a paper on the forum topic, you have the opportunity to participate as a panel member. The discussion notes are published widely distributed to share the knowledge throughout the global industry.
Ongoing worldwide exposure. Proceedings and single papers available online purchase at reasonable cost shortly after the conference and promoted globally. After 18 months, proceedings are made freely available to the industry via the ALTA Free Library, a widely-used free resource for the metallurgical industry.
May 31 (Provisional)
Abstract submission
August 31
Presenter registration
August 31
Lodge visa application
September 1
Submission of paper
September 15
Submission of presenter bio
October 1
Book hotel accommodation at conference venue
November 7
Short Course: A-Z of Copper Ore Leaching
Short Course: Design of Successful Bulk Flow Systems for Hydromet Operations
November 8
Short Course: SX and its Application to Copper, Uranium & Nickel-Cobalt
Short Course: The ART of HPAL - The Way to Success
November 9-11
Nickel-Cobalt-Copper sessions. Bring your PowerPoint presentation on a USB stick to the presenter briefing on the day of your presentation.
November 12
Uranium-REE and Gold-PM parallel sessions. Bring your PowerPoint presentation on a USB stick to the presenter briefing on the day of your presentation.
November 13
ISR and Lithium & Battery Technology parallel sessions. Bring your PowerPoint presentation on a USB stick to the presenter briefing on the day of your presentation.
November 14
Short Course: Uranium Ore Processing
Short Course: Lithium Processing
November 27
Submission of final paper for the proceedings
| | |
| --- | --- |
| Presenter Checklist | To assist your planning and preparations, please download the presenter checklist |
| Author & Presenter Guidelines | Abstracts and papers must be formatted and submitted in accordance with the Author & Presenter Guidelines. Submission of an abstract is deemed to be acceptance of the Guidelines, including Copyright. |
| Abstracts | Please prepare using the abstract template and refer to the sample abstract as a guide. |
| Papers | Please prepare using the paper template and refer to the sample paper as a guide. Name the file using the session and surname of presenter (e.g. NCC-TAYLOR) |
| Presenter Bio | Prepare a brief professional bio (125 words max) in sentence format for the session chair to read as an introduction to the audience. Sample Bio |
| Presentation Template | Use of the presentation template is encouraged but not compulsory. If using a corporate template, refer to the Author & Presenter Guidelines to ensure your presentation is compliant. |
| Widescreen | Widescreen Presentation Tips |
| Conference Logo | Download the conference logo for white backgrounds or dark backgrounds and insert into your presentation. Open the image, right click and select either "copy" or "save image as". |
| Promote your Presentation | Promote your presentation by including the presenter button in your email signature, website and social media pages with #ALTA2020 and a link to: https://www.altamet.com.au/conferences/alta-2020/ |

Latest News & Articles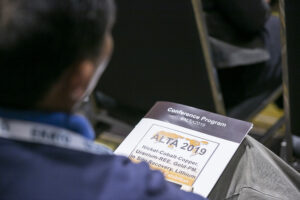 Its conference week…or it would have been if not for the global pandemic.  We have held the annual ALTA conference…Read more