ALTA 2020 Online is a world-class annual metallurgical conference, celebrating its 25th year, and a leading platform for innovation.  The emphasis of the program is practical rather than academic, and the themes running through the conference are the various aspects of technology and project development. ALTA conferences are well-known for providing exceptional opportunities for the industry to share ideas, innovations, technologies and projects, and develop new industry connections.
Substantial discount off registration fees (one per paper). Sole consultants receive further discounts. Fee Schedule
Promotion via the ALTA website, online event platform, LinkedIn and Twitter.
Opportunity to update papers prior to publication of final proceedings e-book.
Panel discussions, a key feature of ALTA for many years, provide a unique opportunity to learn from experts in their field. The Q&A format encourages open discussion and debate with delegates, and the chance to workshop key issues for the benefit of the wider industry. By presenting a paper on the forum topic, you have the opportunity to participate as a panel member. The discussion notes are published widely distributed to share the knowledge throughout the global industry.
Ongoing worldwide exposure. Proceedings and papers available for online purchase shortly after the conference and promoted globally. After 18 months, all proceedings are freely available to the industry via the ALTA Free Library, a widely-used free resource for the metallurgical industry.
May 31
Abstract submission
July 31
Presenter bio and photograph
Presenter bios and photos will be published on the online platform with abstracts.
August 31
Registration
Each paper receives one discounted presenter registration; co-presenters and co-authors must register using applicable rates. Further discounts for sole consultants, unemployed or retired presenters. Fee Schedule
September 1
Papers
Papers must be prepared using the new conference template in accordance with the Author & Presenter Guidelines. Papers that do not comply may be returned for reformatting. Delegates will download papers from the online platform during and after the conference.

October 1
Presentation
Be ready to record your video presentation. Our AV partner, Encore Event Technologies, will contact you to schedule a time for an assisted recording.
November 27
Final revisions
Please advise if you wish to edit your paper for the proceedings and we will send you the master version. Updates of original submitted papers will not be accepted. Revised papers will not be available from the online platform, they are for the final proceedings e-book only.
| | |
| --- | --- |
| Presenter Checklist | To assist your planning and preparations, please download the presenter checklist |
| Author & Presenter Guidelines | Abstracts and papers must be prepared, formatted and submitted in accordance with the Author & Presenter Guidelines. Submission of an abstract is deemed to be acceptance of the Guidelines, including Copyright. |
| Abstracts | Please prepare using the abstract template and refer to the sample abstract as a guide. |
| Papers | Please prepare using the paper template and refer to the sample paper as a guide. Name the file using the session and surname of presenter (e.g. NCC-TAYLOR) |
| Presenter Bio and Photo | Keep your bio brief (125 words max) and prepare in conversational format. Presenter bios and photos will be published on the online platform with abstracts. Sample bio |
| Presentation Template | Use of the presentation template is encouraged but not compulsory. If using a corporate template, refer to the Author & Presenter Guidelines to ensure your presentation is compliant. |
| Widescreen | Widescreen Presentation Tips |
| Recording Tips | How to present professionally from home |
| Conference Logo | Download the conference logo for white backgrounds or dark backgrounds and insert into your presentation. Open the image, right click and select either "copy" or "save image as". |
| Promote your Presentation | Promote your presentation with the presenter button in your email signature, website and social media with #ALTA2020 or #ALTA2020online and link to the conference website. |

Latest News & Articles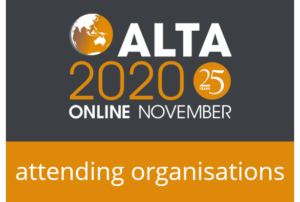 ALTA 2020 Online is LIVE The list of attendees includes 600 participants from 47 countries representing 345 organisations. We are excited…Read more