Keynote Speaker
Lithium & Battery Technology Sessions
Prof Peter Talbot
Queensland University of Technology, Queensland University of Technology (Australia)
Establishing Australia's Battery Industry Supply Chain
Peter Talbot is a Professorial Fellow at QUT, a Director of ScienceWorks Consultants and co-founder of the Very Small Particle Company Ltd. (VSPC), a nano-materials manufacturing company based in Brisbane. Peter has an honours degree in geology from James Cook University and a PhD in materials science from The University of Queensland.
After obtaining his PhD, Peter became Program Manager for ACD, Uniquest Pty Ltd., at The University of Queensland. In that role, he managed a team of over 20 scientists and engineers that developed a range of advanced chemical processes and materials. The team was responsible for completing milestones for a $5M research project for the Energy Research and Development Council (ERDC) and for international projects with Enya Systems in Japan, BCC cables in Wales and Nordic Superconductors in Denmark. The team also completed commercial projects with Australian companies such as MMCables and Minesite Remediation Services Pty Ltd. Peter and his colleagues at VSPC developed and patented a generic process for producing complex nanoscale metal oxides. This process proved to be a platform technology for manufacture of nano-scale metal oxides with near-atomic scale features resulting in enhanced physical, electrical, magnetic, optical and mechanical properties. These nano-scale oxides are used in a range of modern-day technologies including fuel cells, batteries, electronics, catalysts, cosmetics and pigments.
Dr Talbot has extensive experience with corporate and industry-based R&D. He has an international reputation in materials science particularly in the field of nano-materials manufacture and High Temperature Superconductors. He also holds numerous patents in the field of solid-state chemistry, automated chemical manufacture and nano-materials. Over the past five years, Professor Talbot's research has advanced beyond controlling not only the particle size of nano-scale materials but also to controlling morphological properties of materials, such as porosity and crystal architecture. These developments have resulted in the control of physical properties for new industrial catalysts as well as electronic and battery materials for international companies such as BASF, Engelhard, Valence Technologies, Sud Chemie, Toyo Ink, Phostech Lithium, Lishen Battery Co. and RioTinto Alcan. Professor Talbot is now extending this work to high performance materials such as light and strong borides, carbides and nitrides that also demonstrate unique electrical, magnetic and optical properties.  
Grants and Investment Funding   Professor Talbot has jointly raised over $30million in investment funds for new technology companies, including over $10million in competitive R&D grants. He is currently Project Leader of the $4M AA2020CRC project to develop advanced battery materials for electric vehicles.

Latest News & Articles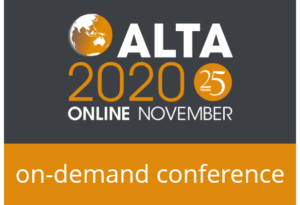 After three action-packed weeks the live conference has ended but the on-demand event continues until 12 March. We were excited…Read more