ALTA 2013
Conference Report
ALTA 2013 proceedings may be downloaded from the

ALTA Free Library
ALTA 2013 was held 25 May to 1 June at Crown Convention Centre in Perth, Australia.   It was well attended with 240 participants from 24 countries.   The parallel exhibition attracted exhibitors from seven countries.
The conference was officially opened by Jonathan Law, Director, Minerals Down Under Flagship, CSIRO, Australia, who delivered a presentation on "Innovation in Mineral Processing: Where Are We Headed?"
The Keynote Address at the Nickel-Cobalt-Copper Dinner was given by Alan Taylor, Managing Director, ALTA, who gave an entertaining presentation entitled "PAL – The Great Survivor: Part II" as a follow-up to his presentation at ALTA 2011.  The Nickel-Cobalt-Copper sessions included a Forum and Panel discussion on PAL of Laterites which included papers on the Goro Nickel Process, MHP refining, sequestering of CO2, ball valve applications and maintenance at remote PAL sites.  The future of the PAL process and the development of alternative processes were featured in the open panel discussion.  Other topics included processing of laterites, ore sorting, use of MSA, solid-liquid separation, heap leaching, SX-IX, agitation, electrowinning, hydroprocessing and chloride processing.  Featured projects included Tiger Resource's Kipoi Copper Leach-SX-EW Project in the DRC and Poseidon's Windarra Nickel Project, in WA.
A new feature was the inclusion of a REE segment in the Uranium Sessions.  To open the Uranium-REE sessions, Areski Reskallah, Global Technical Leader-Uranium, Dow Chemical, France, presented the Keynote Address on "Resin-in-Pulp and its Challenges for the Ion Exchange Resin – Time for a New Resin Solution for RIP?"  The featured Forum and Panel discussion focused on Uranium Ion Exchange, which included presentations on recent advances, resin durability, use of chelating resins, rejection of impurities, and the advantages of CIX. Other uranium topics presented included project development, SX, heap leaching, precipitation and drying, environmental and safety, use of membranes, and process simulation.  REE topics included recovery from complex and low grade deposits, processing challenges, and the benefits and challenges of centralised processing.  Developing projects presented included Greenland Minerals and Energy's Kvanefjeld Project in Greenland and A-Cap Resources' Letlhakane Project in Botswana.
Professor Jacques Eksteen, Manager Gold Technology Group, Curtin University, Australia, presented the Keynote Address in the Gold sessions on "Gravity Gold Recovery – Lessons Learnt from 15 Years of Laboratory and Plant Studies".  The Forum and Panel topic was Cyanide Alleviation and included presentations on alternative lixiviants, AVR, membrane processes, SART, and detox technology.  A feature was a presentation on the commercialisation of Barrick's thiosulphate process.  Other topics in the Gold Sessions included bio and pressure oxidation, HPGR, precious metals refining, slurry agitation, process selection and modeling, potential use of cellulose material for adsorption, and environmental impact assessment.  A featured project was the Pokrovskiy Pressure Oxidation Hub under development in Russia.
Practically-oriented one-day short courses on Treatment of Nickel-Cobalt Laterites and Heap Leaching & its Application to Copper, Gold, Uranium & Nickel-Cobalt were presented by Alan Taylor, Managing Director, ALTA.
ALTA conference proceedings and short course manuals are available from Publications and ALTA Free Library.
Latest News & Articles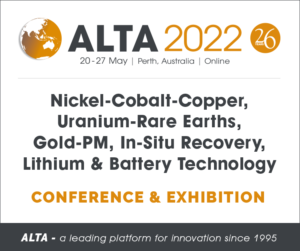 ALTA 2022 is pleased to present an outstanding line up of presenters and selection of abstracts. View the Abstracts on…Read more