ALTA 2012
Conference Report
ALTA 2012 proceedings may be downloaded from the

ALTA Free Library
ALTA 2012 was held 26 May to June 2012 at Burswood Convention Centre, Perth, Australia from. It was very well attended with 280 attendees from over 25 countries. The parallel 34 booth exhibition attracted exhibitors from 8 countries.
The conference was officially opened by Richard Matheson representing the Nickel Institute in Australasia and South-East Asia who focused on "Promoting Nickel Use and Re-use".
The Keynote Address at the Nickel-Cobalt Dinner was given by David Dreisinger, Professor and Chairholder, Industrial Research Chair in Hydrometallurgy, the University of British Columbia, Vancouver, Canada and President, Dreisinger Consulting Inc. who spoke on "Hydroprocessing of Sulphides – Where Are We and Where Are We Heading". The Nickel-Cobalt-Copper Sessions included a Forum and Panel Discussion on Hydroprocessing of Sulphides which included papers on bio, pressure, galvanic and chloride leaching. Other topics included processing of laterites, laterite projects, process technology, electrowinning, SX/IX, cobalt recovery and equipment and materials. A highlight was Eramet's paper on their Weda Bay Project, Indonesia, for which they have developed an atmospheric leaching based process.
The featured Forum and Panel Discussion in the uranium sessions focused on Uranium Heap Leaching. Other topics presented included SX/IX, uranium ore leaching, and project development. A number of developing projects were presented including UraniumSA's Samphire Project in South Australia, Toro Energy's Wiluna Project in Western Australia, Greenland Minerals and Energy's Kvanefjeld Project in Greenland, Aura Energy's Häggån Project in Sweden and A-Cap Resources' Letlhakane Project in Botswana.
Robert Dunne, Fellow – Metallurgy, Newmont Mining Corporation, Denver, USA presented a Keynote Address in the Gold sessions on "Challenges and Opportunities in the Treatment of Refractory Gold Ores". A Forum and panel discussion on the same topic was also included with papers on diagnostic leaching, copper-gold ores, thiosulphate systems, Maelgwyn technology, roasting, bio-oxidation and the Albion Process. Other topics included AMIRA's research and development for the gold industry, treatment of antimonial ores, cyanide detox and the use of computational fluid dynamics in mixing applications.
Practically oriented short courses on SX and Its Application to Copper, Uranium and Nickel Cobalt and Uranium Ore Processing were presented by Alan Taylor, Managing Director, ALTA.
ALTA conference proceedings and short course manuals are available from Publications and ALTA Free Library.
Latest News & Articles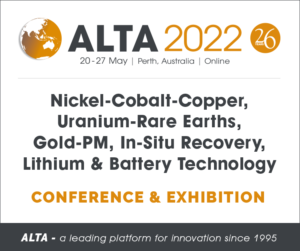 ALTA 2022 is pleased to present an outstanding line up of presenters and selection of abstracts. View the Abstracts on…Read more